January 2017 ISE 2017 marks the 11th time ILS is exhibiting at ISE, and we proudly present newer and better Presenter and SpeakersCorner lectern systems. We continue to put more and more emphasis on producing the highest quality and most durable solutions that are very user-friendly, that significantly reduce cost of ownership.
Designed for upscale boardrooms, showrooms and prestigious events, the new Synergy IM uses the same proven multi-touch technology as our previous ILS22 generation.
This seamless sheet of 70x50 cm 5 mm thick safety glass offers 10 point multi-touch. Beneath it are an integrated 29" ultra-wide 2560x1080 display, a 12" letterbox format panel serving as a multifunctional keyboard with changing key layouts, a control panel next to a trackpad, and multiple control keys. The new Synergy IM uses Windows 10 Pro to and provides excellent integration between the main screen and the control panel on the right. The keyboard is fully customizable; our ILS Control Software can display virtually any keyboard layout.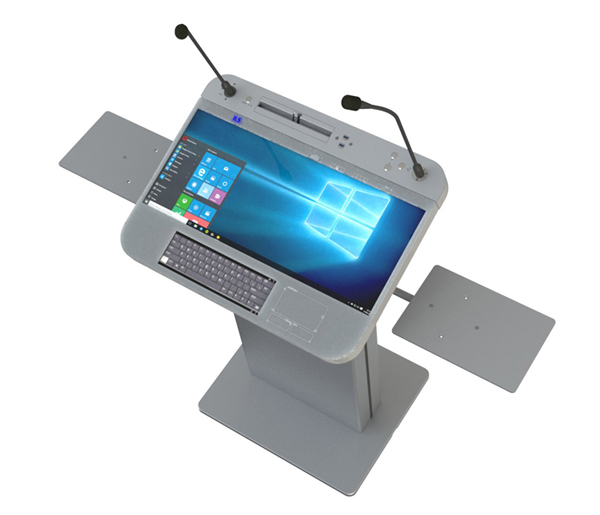 The Synergy IM comes standard with a 10" control panel, Blu-ray Disk writer/player, Intel® i7-6700T Core™ i5, Solid State Drive and our special KVM/5x3 HDMI matrix Switcher.